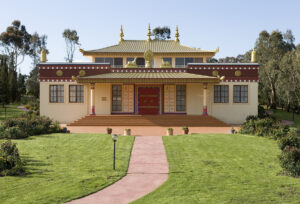 Background and structure
The Tibetan Buddhist Society Limited was formally established in 1983 by our Founder, the most Venerable Geshe Acharya Thubten Loden. Geshe Loden had given teachings in Australia since 1976.
The Society is a company limited by guarantee registered with the Australian Securities and Investments Commission and is also registered as a charity with the Australian Charities and Not-for profits Commission. All revenue generated by the Society's activities is applied solely towards promotion of the Society's objectives and activities and not for the financial benefit of any individual or third party.
Our purpose and objectives
Geshe-la established the Society in order to develop, preserve and communicate the authentic lineage of Mayahana Buddhist teachings, in the Tibetan tradition, within the Australian community. The Society's objectives also include:
promoting values of peace, community and wisdom,
fostering good citizenship in the community by providing promoting high moral and spiritual values,
supporting open communication and harmony amongst all spiritual traditions, and
contributing to the welfare of the Australian community through educational, social, charitable, philanthropic, benevolent and humanitarian activities
The Society operates 4 meditation centres in Melbourne, Perth, Sydney and Brisbane.
Governance and activities
A committee of directors gives general guidance to the activities of the Tibetan Buddhist Society, in accordance with written guidelines and principles set by Geshe Loden. Each centre is managed by its own group of directors. Directors are not remunerated for their role.
The current directors of the Melbourne centre are:
Jean D'Cruz
Tonina Egan
Anna Goldstein
Martin Horan
Anthony Joseph
Michael Joseph
Trevor Kitcher
Rosie McKew
Tim McKibben
Leah Quinton
Paul Quinton
Paul Sokolich
Associate directors representing our community are appointed from time to time.
Day to day activities of the Melbourne centre are also managed and guided by our various committees and teams, which members of our broader community are welcome to join. The centre is, and has always been, essentially powered and sustained by volunteers. Our Tibetan Buddhist Society volunteer community of residents, members, supporters and friends brings a wealth of energy, perspectives and skills to our teams and activities. You can find out more about how you can become involved in the centre's activities here.
Tibetan Buddhist Society
20 Cookes Rd
Yuroke VIC 3163
Tel: +61  03 9333-1770